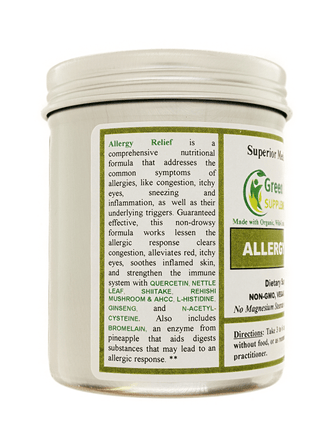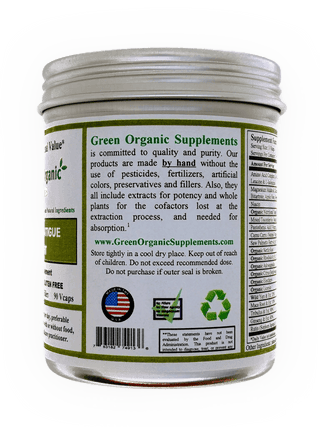 Your Security is Protected
Made with Organic, Wild-Crafted, and Natural Ingredients
Allergy Relief, Natural, 90 VCaps 
Hand Made, Non-GMO, Vegan, & Gluten Free
Allergy Relief is a comprehensive nutritional formula that addresses the common symptoms of allergies, like congestion, itchy eyes, sneezing and inflammation, as well as their underlying triggers. This non-drowsy formula lessens the allergic response, clear congestion, alleviates red, itchy eyes, soothes inflamed skin, and strengthen the immune system with QUERCETIN, NETTLE LEAF, L-HISTIDINE, GINSENG LEAF & EXT. 80%, and N-ACETYL-CYSTEINE, plus BROMELAIN, an enzyme from pineapple that aids digests substances that lead to an allergic response. (Check Supplement Facts for a complete ingredient's list).


Your Security is Protected
Allergy Relief, Natural, 90 VCaps
Hand Made, Non-GMO, Vegan, & Gluten Free
Supplement Facts
Serving Size: 3 VCaps
Serving per Container: 30
Amount Per Serving
% DV
Quercetin (Lovage & Ext. 95%)1

200mg

*

N-acetyl-cysteine

150mg

*

MSM

(Methylsulfonylmethane)

700mg

*

Butterbur Root & Ext. 4:11

160mg

*

Bromelain 1000gdu

90mg

*

Barberine Blend (Barbery, Wild Oregon Grape, Goldenthread & Ext. 5:1)1

40mg

*

Organic Beet Root & Ext. 100:11

40mg

*

Organic Plantain

20mg

*

Organic Onion

30mg

*

Organic Fenugreek

20mg

*

Organic Kudzu

20mg

*

Organic Licorice

20mg

*

Organic Citrus Bioflavonoids, (Orange, Lemon, & Grapefruit Peel)

20mg

*

Luteolin Complex (Perilla Seed & Ext.10:1)1

50mg

*

Wild Nettle Leaf

160mg

*

Apigenin Complex (Parsley & Ext 100:1, Celery)1

50mg

*

Ginseng Leaf & Ext. 80%1

40mg

*

L-Histidine

40mg

*

*Daily Value not established

Other Ingredients: plant-derived capsule
1Includes the extract for potency and the whole plant for the cofactors lost at the extraction process.
Directions: Take 3 capsules (breakfast, mid-day, and night), or as recommended by a healthcare practitioner.
Price: $26.98