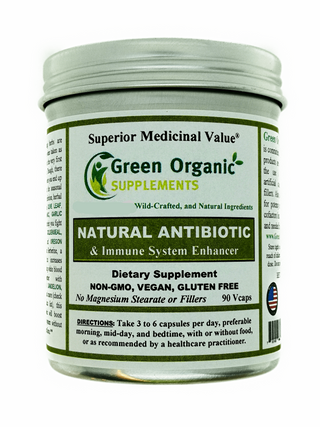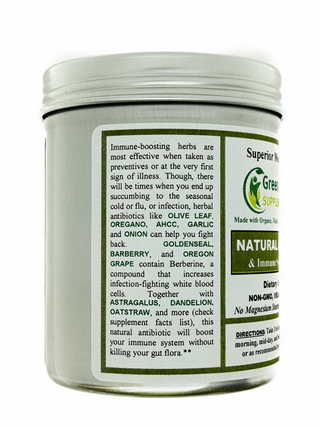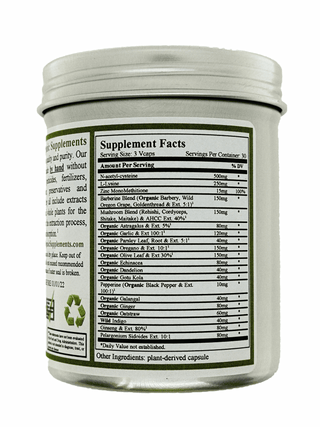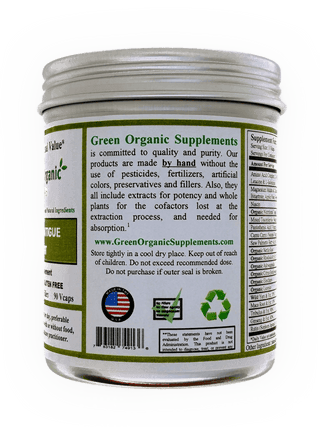 Antibiotic, Immune System Enhancer

Your Security is Protected
Antibiotic, Natural, 90 VCaps
Hand Made, Vegan, Non-GMO, & Gluten Free
Made with Organic, Wild-Crafted, and Natural Ingredients

Immune-boosting herbs are most effective when taken as preventives or at the very first sign of illness. Though, there will be times when you end up succumbing to the seasonal cold or flu, Herbal antibiotics like Organic Echinacea, Organic Garlic and Onion help you fight back. Goldenthread, Barberry, & Oregon Grape contain Berberine, a compound that increases infection-fighting white blood cells. All together, this natural antibiotic helps boost your immune system without killing your gut flora.**
Supplement Facts
Serving Size: 3 VCaps
Serving per Container: 30
Amount Per Serving
% DV

N-acetyl-cysteine

500mg

*

L-Lysine

250mg

*

Zinc Mono-L-Methionine

15mg

100%

Barberine Blend (Organic Barbery, Wild Oregon Grape, Goldenthread & Ext. 5:1)1

150mg

*

Mushroom Blend (Rehishi, Cordyceps, Shitake, Maitake) & AHCC Ext. 40%1

150mg

*

Isatis Root

80mg

*

Organic

 Garlic & Ext 100:11

120mg

*

Organic

 Parsley Leaf, Root & Ext. 5:11

40mg

*

Organic

 Oregano & Ext. 10:11

150mg

*

Organic

 Olive Leaf & Ext 30%1

150mg

*

Organic

 Echinacea

80mg

*

Organic

 Dandelion

40mg

*

Organic

 Gotu Kola

40mg

*

Peperine (

Organic 

Black Pepper & Ext. 100:1)1

10mg

*

Organic

 Galangal

40mg

*

Organic

 Ginger

80mg

*

Wormseed

60mg

*

Wild Indigo

40mg

*

Ginseng & Ext. 80%1

80mg

*

Pelargonium Sidoides

80mg

*

*Daily Value not established
Other Ingredients:

 plant-derived capsule
1Includes the extract for potency and the whole plant for the co-factors lost at the extraction process.
Directions: Take 3 to 6 capsules per day, preferably morning, mid-day, and bedtime, with or without food, or as recommended by a healthcare practitioner.
Price: $26.98 
Customer Reviews
10/21/2021
Anonymous

United States
I recommend this product
Exactly what I have been looking for!
I have done my own research on boosting my immunity especially in light of the pandemic, and this formula has everything I was looking for in it and more especially garlic, and unbelievably multiple forms of Berberine and mushrooms all in one immune system support product. Berberine is very powerful if you look into it. I haven't found anything even close to this formula. I take 1 capsule with each meal as baseline protection. I feel stronger and as a nice aside it helps my allergies. Very Grateful! Thank you!