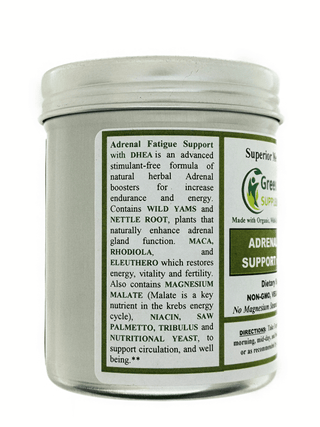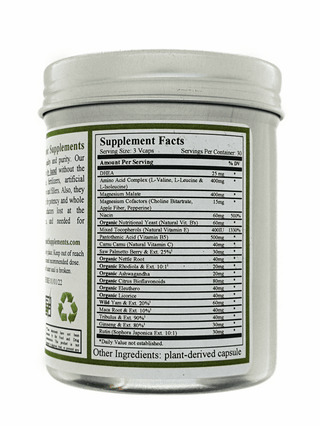 Adrenal Fatigue with DHEA

Your Security is Protected

Adrenal Fatigue Support with DHEA, High Absorbable, 90 Vcaps
Hand Made, Non-GMO, Vegan, & Gluten Free
Made with Wild-Crafted, and Natural Ingredients
Adrenal Fatigue Support with DHEA is an advanced stimulant-free formula of natural herbal Adrenal boosters for increase endurance and energy. Contains WILD YAMS and NETTLE ROOT, plants that naturally enhance adrenal gland function. MACA, RHODIOLA, and ELEUTHERO which restore energy, vitality and fertility. Also contains MAGNESIUM MALATE (Malate is a key nutrient in the krebs (energy) cycle), NIACIN, SAW PALMETTO, TRIBULUS and BREWERS YEAST, to support enhanced men or women health, circulation, and well being.**
Supplement Facts

Serving Size: 3 VCaps

Serving per Container: 30

Amount Per Serving
% DV
DHEA (

Dehydroepiandrosterone

)

25mg

*

Amino Acid Complex (L-Valine, L-Leucine & L-Isoleucine)

400mg

*

Magnesium Malate

300mg

*

Magnesium Cofactors (Choline Bitartrate, Organic Carob, Peperine)

15mg

100%

Niacin

60mg

500%

Organic Schizandra Berry

100mg

*

Nutritional Yeast (Natural B-Complex)

60mg

*

Mixed Tocopherols (Natural Vitamin E)

400IU

1330%

Pantothenic Acid (Vitamin B5)

500mg

*

Camu Camu (Natural Vitamin C)

40mg

*

Saw Palmetto Berry & Ext. 25%1

30mg

*

Organic Nettle Root

40mg

*

Organic Rhodiola & Ext. 10:11

20mg

*

Organic Ashwagandha

20mg

*

Citrus Bioflavonoids, (Orange, Lemon, & Grapefruit Peel)

80mg

*

Organic Eleuthero

40mg

*

Organic Licorice

40mg

*

Wild Yam & Ext. 20%1

60mg

*

Maca Root & Ext. 10%1

40mg

*

Tribulus & Ext. 90%1

40mg

*

Ginseng & Ext. 80%1

30mg

*

Rutin (Sophora Japonica Ext. 10:1)

30mg

*

*Daily Value not established
Other Ingredients

:

 plant-derived capsule
1Includes the extract for potency and the whole plant for the cofactors lost at the extraction process.
Directions: Take 3 capsules a day preferable with food, or as recommended by a healthcare practitioner. The exact number of capsules to be taken should be determined by blood testing and the advice of a physician. For optimal results, take one capsule in the morning. DHEA serum blood tests are suggested 3 to 6 weeks after initiating DHEA replacement therapy to optimize individual dosing.
Warnings/Cautions: Do not use DHEA if you are at risk for or have been diagnosed as having any type of hormonal cancer, such as prostate or breast cancer. Keep out of reach of children. Do not exceed recommended dose. Do not purchase if outer seal is broken or damaged. When using nutritional supplements, please consult with your physician if you are undergoing treatment for a medical condition or if you are pregnant or lactating. These statements have not been evaluated by the Food and Drug Administration. These products are not intended to diagnose, treat, cure, or prevent any disease. 
Price: 34.98