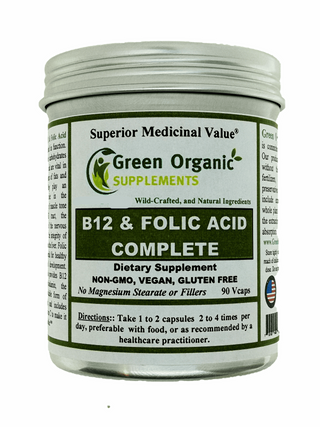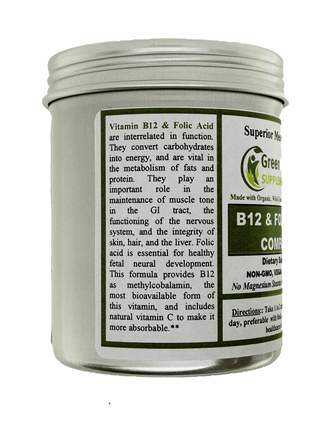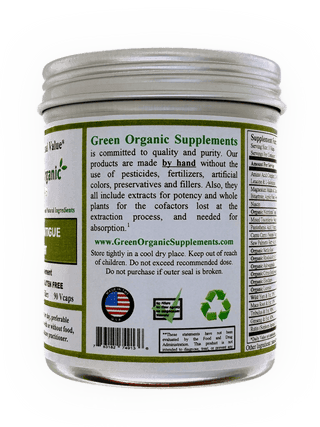 Vitamin B12 & Folic Acid Complete
vitamin, and includes natural vitamin C to make it more absorbable.

Your Security is Protected
B12 & Folic Acid, High Absorbable, 90 VCaps
Hand Made, Vegan, Non-GMO, & Gluten Free
Made with Wild-Crafted, and Natural Ingredients
B12 Methylcobalamin 1000 mcg and Folic Acid 800 mcg
Vitamin B12 and folate are interrelated in function. They convert carbohydrates into energy, and are vital in the metabolism of fats and protein. They play an important role in the maintenance of muscle tone in the GI tract, the functioning of the nervous system, and the integrity of skin, hair, and the liver. Folic acid is essential for healthy fetal neural development. This formula provides B12 as methylcobalamin, the most bioavailable form of this vitamin, and includes natural vitamin C to make it more absorbable.**
Supplement Facts
Serving Size: 1 VCap
Serving per Container: 90
Amount Per Serving
% DV

B12 (Methylcobalamin)

1000mcg

16667%

Folic Acid (as Methyl-Folate)

800mcg

200%

Beet Root & Ext. 100:1

50mg

*

Rutin Complex (Sophora Japonica Ext. 10:1, Buckwheat)

50mg

*

Vitamin C Blend (Rosehips, Amla, Acerola Ext. 25%, Camu Camu)1

300mg

*

Citrus bioflavanoids (Orange, Lemon, & Grapefruit Peel)

50mg

*

Nutritional Yeast (Natural B12)

100mg

*

Dulse & Ext. 30:1

100mg

*

*Daily Value not established.
Other Ingredients:

 plant-derived capsule
1Includes the extract for potency and the whole plant for the cofactors lost at the extraction process.
Directions: 1 to 2 capsules 2 to 4 times daily with food, or as directed by your healthcare professional.
Price $25.98
Related Terms : b12 vitamin foods, foods high in vitamin b12, vitamin b12 deficiency anemia, foods rich in vitamin b12, vitamin b12 dosage, vitamin b12 levels, vitamin b12 shots, vitamin b12 injections, high vitamin b12, best b12 vitamin, best vitamin b12, vitamin b12 levels chart