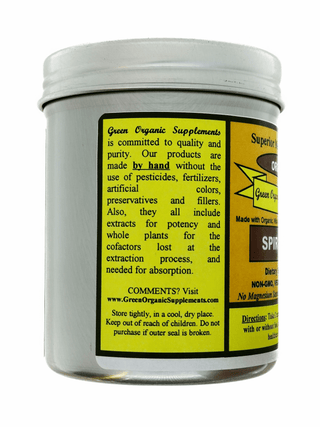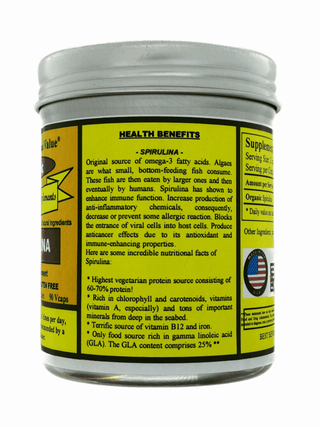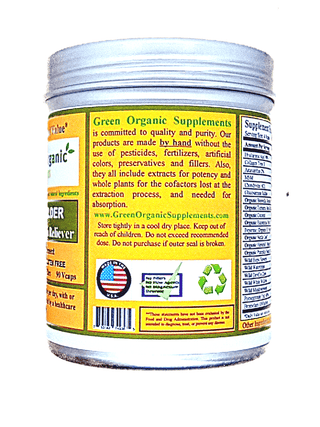 Your Security is Protected 
Spirulina, 90 VCaps
Hand Made, Non-GMO, Vegan, & Gluten Free
Made with Ingredients
Original source of omega-3 fatty acids. Algaes are what small, bottom-feeding fish consume. These fish are then eaten by larger ones and then eventually by humans. Spirulina can enhance immune function. Increase production of anti-inflammatory chemicals, consequently, decrease or prevent some allergic reaction. I can also block the entrance of viral cells into host cells, and produce anticancer effects due to its antioxidant and immune-enhancing properties.
Here are some incredible nutritional facts of Spirulina:
Highest vegetarian protein source consisting of 60-70% protein! Rich in chlorophyll and carotenoids, vitamins (vitamin A, especially) and tons of important minerals from deep in the seabed. Terrific source of vitamin B12 and iron. Only food source rich in gamma linoleic acid (GLA). The GLA content comprises 25%.**
Supplement Facts
Serving Size: 2 VCaps 
Serving per Container: 45
Amount Per Serving
% DV

Spirulina

  1420mg

*

*Daily Value not established
Other Ingredients

:

 plant-derived capsule
1Includes the extract for potency and the whole plant for the cofactors lost at the extraction process.
Directions: Take 2 to 6 capsules a day with or without food, or as recommended by a healthcare practitioner.
Price: $14.98
Related Terms : spirulina tablets, spirulina pills, spirulina powder, chlorella spirulina, blue spirulina powder, hawaiian spirulina, blue spirulina, spirulina smoothie, spirulina and chlorella, hawaiian spirulina powder, spirulina beneficios, spirulina