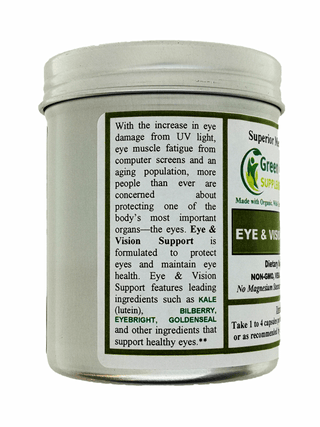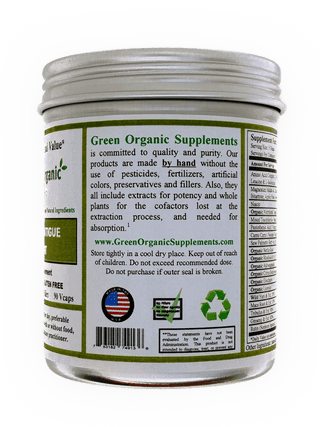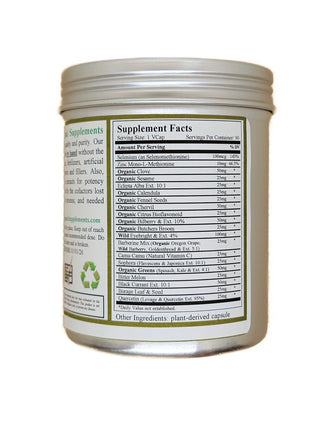 Your Security is Protected
Eye & Vision Support, 90 VCaps
Hand Made, Non-GMO, Vegan, & Gluten Free
Made with Wild-Crafted, and Natural Ingredients
With the increase in eye damage from UV light, eye muscle fatigue from computer screens and an aging population, more people than ever are concerned about protecting one of the body's most important organs—the eyes. Eye & Vision Support is formulated to protect eyes and maintain eye health. Eye & Vision Support features leading ingredients such as Kale (lutein), Bilberry, Eyebright, Goldenseal and other ingredients that may support healthy eyes.**
Supplement Facts
Serving Size: 1 VCap
Serving per Container: 90
Amount Per Serving
% DV

Selenium (as Selenomethionine)       

100mcg

143%

Zinc Complex (Zinc Mono-L-Methionine, Hemp & Sesame Seed)

20mg

*

Clove

50mg

*

Black Seed

25mg

*

Green Mix (Spinach, Kale & Ext. 4:1)1

50mg

*

Calendula & Ext. 10:1


25mg

*

Fennel Seeds

25mg

*

Chervil

50mg

*

Citrus Bioflavonoid (Lemon, Orange, & Grapefruit Peel)

25mg

*

Bilberry & Ext. 10%1

50mg

*

Butchers Broom

25mg

*

Wild Eyebright & Ext. 4%1

100mg

*

Barberine Complex (Oregon Grape, Wild Barberry, Goldenthread & Ext. 5:1)1

25mg

*

Camu Camu (Natural Vitamin C)

25mg

*

Sophora Flavescens & Japonica Ext. 10:1 (Natural Rutin)

25mg

*

Eclipta Alba Ext. 10:1




25mg

*

Bitter Melon

25mg

*

Black Currant Ext. 10:1

50mg

*

Borage Leaf & Seed

25mg

*

Quercetin Complex (Lovage & Quercetin Ext. 95%)1

25mg

*

*Daily Value not established
Other Ingredients

:

 plant-derived capsule
Directions: Take 1 to 4 capsules per day with or without food, or as recommended by a healthcare practitioner.
Price: $29.98
HEALTH BENEFITS
- EYEBRIGHT LEAF -
Recommended for treating conjunctivitis, discharge, and for eye allergic reactions.
- CHERVIL -
Treats eye disorders like inflammation of the deeper structures, detached retina and cataract.
- FENNEL SEEDS -
Used to treat inflammation of the eye.
- CALENDULA FLOWERS & KALE -
Rich sources of Lutein. Reduces swelling and itching. It is helpful in irritations due to pollution and allergies.
- CAMU CAMU -
Rich source of vitamin C, Tonic for the eyes
- BILBERRY LEAF & SOPHORA -
Rich sources of Rutin. Helpful in combating cataracts, macular degeneration, and free radical damage to the retina.
- GOLDENTHREAD ROOT & EXTRACT -
Potent anti-inflammatory herb. Helpful in treating irritation and infections of the eye. It also decreases swelling.**
Related Terms : vision health supplement, supplement for vision, vision supplement, true vision supplement