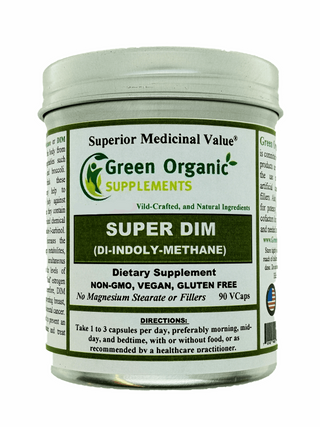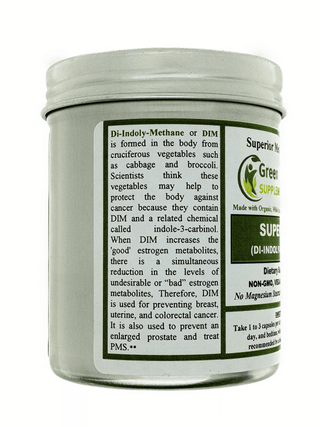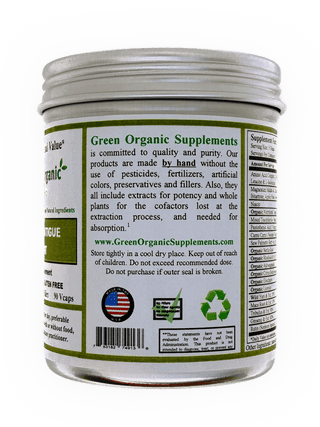 DIM, Diindolylmethane, I-3-C, Indole-3-Carbinol, Broccoli

Your Security is Protected
DIM (Di-Indoly Methane), Super, 90 VCaps
Hand Made, Vegan, Non-GMO, & Gluten Free
Made with Wild-Crafted, and Natural Ingredients
Diindolylmethane or DIM is formed in the body from plant substances contained in cruciferous vegetables such as cabbage and broccoli. Scientists think these vegetables may help to protect the body against cancer because they contain DIM and a related chemical called indole-3-carbinol. When DIM increases the 'good' estrogen metabolites, there is a simultaneous reduction in the levels of undesirable or "bad" estrogen metabolites, Therefore,DIM is used for preventing breast, uterine, and colorectal cancer. It is also used to prevent an enlarged prostate and treat PMS.**
Supplement Facts
Serving Size: 1 VCaps
Serving per Container: 90
Amount Per Serving
% DV

DIM Complex (Di-Indoly Methane & Cabbage - Red & Green)

300mg

*

Broccoli & Ext. 10:1 (Sulforaphane Glucosinolate)1

200mg

*

Kale & Ext. 10:11

100mg

*

Spinach

100mg

 *

Mixed Tocopherols (Natural Vit. E)

400mcg

1330%

Peperine (Black Pepper & Ext. 100:1)1

20mg

*

*Daily Value not established.
Other Ingredients:

 plant-derived capsule
1Includes the extract for potency and the whole plant for the cofactors lost at the extraction process.
Directions: Take 1 to 3 capsules per day, preferably morning, mid-day, and bedtime, with or without food, or as recommended by a healthcare practitioner.
Price: $32.98