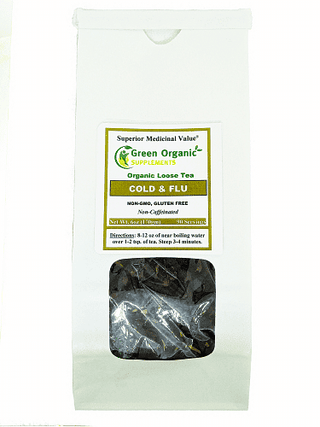 Your Security is Protected


Cold & Flu Tea
Loose Tea
NON- CAFFEINATED, NON-GMO, GLUTEN FREE
This tea is a blend of herbs and spices formulated to promote optimal health and well-being during the cold and flu season. It is a mild-bodied tea with a predominately ginger and raspberry leaf flavor, followed by a floral note from the elder flowers. Caffeine-Free.
Ingredients all: Peppermint Leaf, Elder Flower, Raspberry Leaf, Ginger Root, Elderberry, Yarrow Flower and Hyssop Herb.
Other Ingredients: None
Directions: 8-12 oz of near boiling water over 1-2 tsp. of tea. Steep 3-4 minutes.
For best results, use filtered water, as water can affect the taste of the tea.