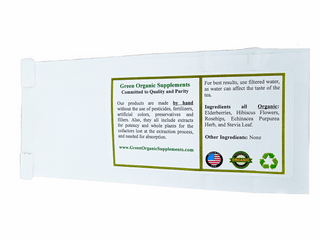 Your Security is Protected


Elderberry Super C Tea
Loose Tea
NON- CAFFEINATED, NON-GMO, GLUTEN FREE
This fruity tea blend is a healthful combination of berries and herbs that may help to support a strong immune system and promote overall good health and well-being. We also embrace Rosehips, Hibiscus, and Echinacea in our blend, making this tea not only packed with power nutrients, as well as natural vitamin c, but flavor too. Elderberry Support boasts a robust tart, berry flavor and can be enjoyed any time of the day, hot or iced. Add to your daily wellness routine today to help support your defenses!
Ingredients all: Elderberries, Hibiscus Flowers, Rosehips, Echinacea Purpurea Herb, and Stevia Leaf.
Other Ingredients: None
Directions: 8-12 oz of near boiling water over 1-2 tsp. of tea. Steep 3-4 minutes.
For best results, use filtered water, as water can affect the taste of the tea.