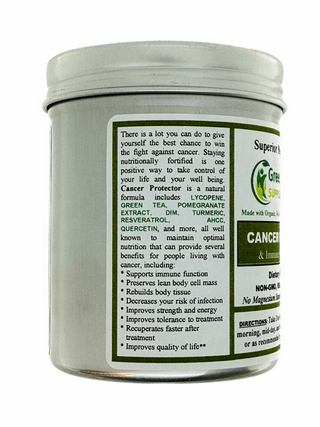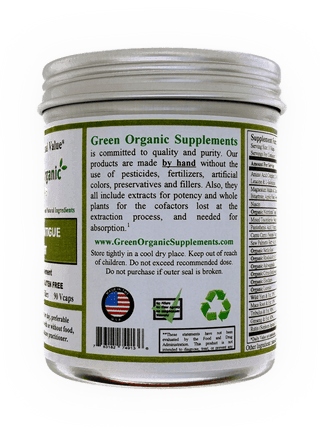 Cancer Protector & Immune System Enhancer

Your Security is Protected
Cancer Protector & Immune System Enhancer, 90 VCaps
Hand Made, Vegan, Non-GMO, & Gluten Free
Made with Organic, Wild-Crafted, and Natural Ingredients
There is a lot you can do to give yourself the best chance to win the fight against cancer. Staying nutritionally fortified is one positive way to take control of your life and your well being. Cancer Protector is a natural formula includes Lycopene, Green Tea, Pomegranate Extract, DIM, Turmeric, Resveratrol, AHCC, Quercetin, and more, all well known to maintain optimal nutrition that may provide several benefits:
* Supports immune function * Preserves lean body cell mass * Rebuilds body tissue * Decreases your risk of infection * Improves strength and energy * Improves tolerance to treatment * Recuperates faster after treatment * Improves quality of life**
Supplement Facts
Serving Size: 3 VCaps
Serving per Container: 30
Amount Per Serving
% DV

L-Glutamine

400mg

*

L-Carnitine

400mg

*

Melatonin

5mg

*

Zinc Complex (Zinc Mono-L-Methionine, Sesame & Hemp Seed)

25mg

100%

DIM Complex (Di-Indoly Methane &

Cabbage (Red & Green)

)

50mg

*

Selenium (as Seleno-Methionine)

100mcg

142%

Quercetin Complex (Lovage & Quercetin Ext. 95%)1

50mg

*

Resveratrol Complex (Knotweed & Resveratrol Ext 50%)1

200mg

*

Mushroom Complex (Shiitake, Maitake, cordyceps & Ext. 40% AHCC)1

200mg

*

Algae Mix (Bitter Melon, Chlorella, Dulce & Ext. 30:1)1

100mg

*

Germanium

10mg

*

Flax Seed

100mg

*

Codonopsis Ext. 10:1

50mg

*

Green Tea Leaf, & Ext. 80%

50mg

*

Tomato & Ext. 10:11 (Lycopene)

50mg

*

Garlic & Ext. 100:11

50mg

*

Curcumin Complex (Coconut, Turmeric & Ext. 95%, Black Pepper & Ext. 10:1)1


100mg

*

Pomegranate Ext. 40%

50mg

*

Mistletoe Leaf

50mg

*

Graviola

100mg

*

Eclipta Alba Ext. 10:1

50mg

*

*Daily Value not established.
Other Ingredients:

 plant-derived capsule
1Includes the extract for potency and the whole plant for the cofactors lost at the extraction process.

Directions: Take 3 to 6 capsules per day, preferably morning, mid-day, and bedtime, with or without food, or as recommended by a healthcare practitioner.

Price: $34.98
Related Terms : enhance immune system supplements, ayurvedic supplements for immunity, immune boosting supplements for cancer, immune system supplements boots