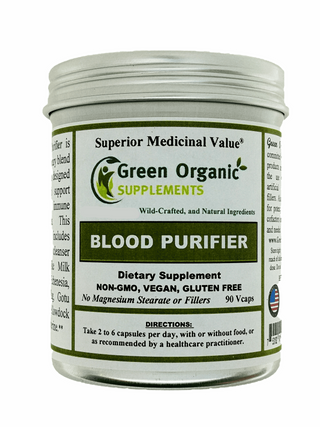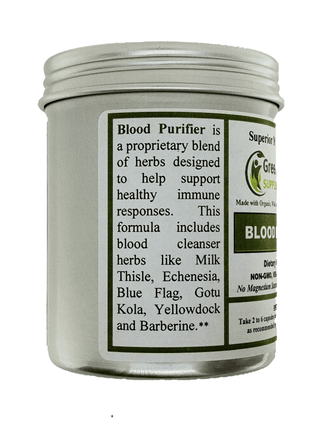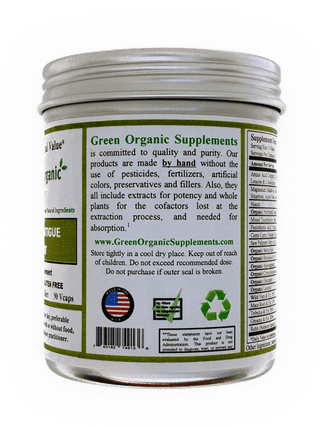 Your Security is Protected
Blood Purifier, 90 VCaps
Hand Made, Non-GMO, Vegan, & Gluten Free  
Made with Wild-Crafted, and Natural Ingredients

Blood Purifier

is a proprietary blend of herbs and nutrients designed to support healthy immune responses.**
Supplement Facts
Serving Size: 2 VCaps
Serving per Container: 45
Amount Per Serving
% DV
Milk Thisle & Ext. 80%1

200mg

*

Echenesia

200mg

*

Chickweed

200mg

*

Salsaparrilla

100mg

*

Blue Flag

50mg

*

Burdock

50mg

*

Radish Seed

50mg

*

Hibiscus Flowers

50mg

*

Wild Gotu Kola

100mg

*

Wild Indigo

50mg

*

Pepperine (Black Pepper & Ext. 10:1)1

20mg

*

Yellowdock

100mg

*

Cleaver

100mg

*

Holy Basil

50mg

*

Barberine Blend (Barbery, Wild Oregon Grape, Goldenthread & Ext. 5:1)1

100mg

*

*Daily Value not established
Other Ingredients

:

 plant-derived capsule
1Includes the extract for potency and the whole plant for the cofactors lost at the extraction process.
Directions: Take 2 to 6 capsules per day, with or without food, or as recommended by a healthcare practitioner.
Price: $26.98
Customer Reviews
09/29/2021
Anonymous

United States
I recommend this product
Product Quality of Ingredients and Effectiveness:- Blood Purifier
We found a major difference physically and energetically. We have recommended your products to several of our family, friends and clients. Product Rating: Excellent!