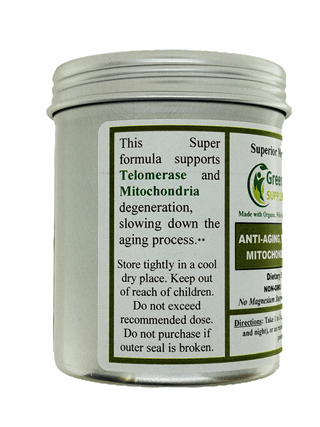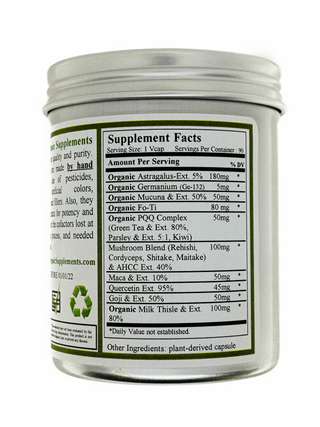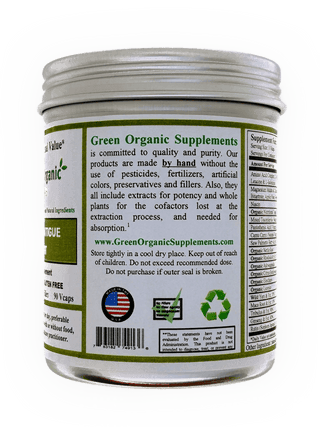 Anti-Aging, Telomerase & Mitochondria Support

Your Security is Protected
Anti-Aging, Telomerase & Mitochondria Support, 90 VCaps
Hand Made, Vegan, Non-GMO, & Gluten Free
Made with Wild-Crafted, and Natural Ingredients

This Super formula supports telomerase and mitochondria degeneration, which can slow down the aging process.**
Supplement Facts
Serving Size: 1 VCap
Serving per Container: 90
Amount Per Serving
% DV

Astragalus & Ext. 5%

180mg

*

Germanium (Ge-132)

5mg

*

Mucuna & Ext. 50%

50mg

*

Fo-Ti

80mg

*

PQQ Complex (Green Tea & Ext. 80%, Parsley & Ext. 5:1, Kiwi)1

50mg

*

Mushroom Blend (Red Rehishi, Cordyceps, Shitake, Maitake, Turkey Tail, Chaga, Lion's Mane,

& AHCC Ext. 40%)1

100mg

*

Quercetin Ext. 95%

45mg

 

Maca & Ext. 10%

50mg

*

Goji Ext. 50%

50mg

*

Milk Thisle & Ext. 80%1

100mg

*

*Daily Value not established
Other Ingredients

:

 plant-derived capsule
1Includes the extract for potency and the whole plant for the co-factors lost at the extraction process.
Directions: Take 1 to 6 capsules (breakfast, mid-day, and night), or as recommended by a healthcare practitioner.
Price: $38.98
Customer Reviews
50
reviewers would recommend this product
Write a Review
10/15/2022
Anonymous

United States
I recommend this product
Not Certified Organic
I've been emailing for a return/refund and no response. This product is not organic.
10/16/2022
Green Organic Supplements
Thank you so much for your order. We got your 2 reviews and thugh you are dissapointed for the products, we're also dissapointed when we get a one star unfounded reviews. 1st. We state everywere in the website, on the pictures of products, and on the labels that the products are made with natural, wild-crafted, and organic ingredients. We never stated that the products are 100% organic, therefore they can not be Certified organic. For your information ony 95% of the formula made with organic ingredients can be Certified, and we're not looking for the stamp, we looking for the best possible products, made with as many organic ingredient that can be possible done. 2nd. NAC, one of your products you bought is a man-made ingredient and can never be organic neither certified organic. 3rd. We did not get any email from you, we respond to all the email within 24 hours. And our customers know, we always answer the phone and return calls messages, so you could had call us or leave a message, but you did not. We hope to help people with our products, and we care, that is why is so important for us to answer to your 2 one star reviews. We listen when there is a problem to get better. Sincerely, Julio Yacub President
01/15/2022
Isaac G.

United States
I recommend this product
Superb quality
Really good product I bought for my mother . Ingredients are high quality and great formulation . I can see this company cares about the health of their customers and they don't cut corners.