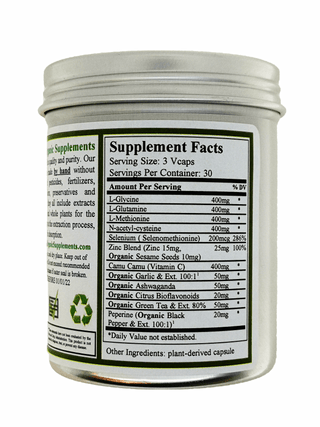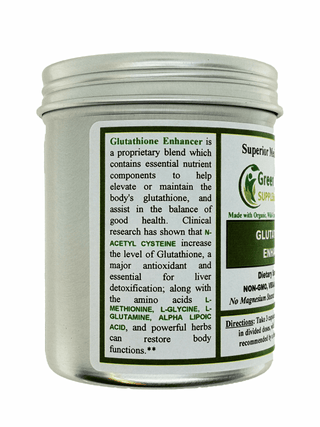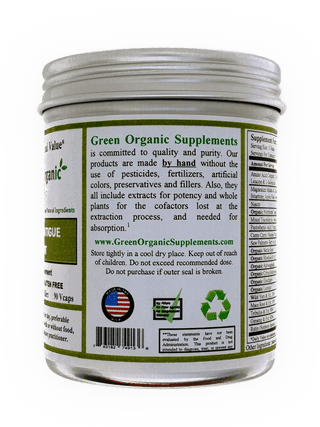 Glutathione Enhancer, Natural, Antioxidant

Your Security is Protected
Glutathione Enhancer, Natural, Antioxidant, High Absorption, 90 VCaps
Hand-Made, Non-GMO, Vegan, & Gluten Free   
Made with Organic, Wild-Crafted, and Natural Ingredients
Glutathione Enhancer is a proprietary blend that contains essential nutrient components to elevate or maintain the body's glutathione and glutathione peroxidase levels and assist in the balance of good health. N-Acetyl Cysteine can increase the level of Glutathione, a major antioxidant and essential for liver detoxification; along with the amino acids L-Methionine, L-Glycine, L-Glutamine, and powerful herbs to restore body functions.** 
You can also check other products such as supplements for high cholesterol, and, supplements for joint pain, and buy magnesium threonate supplement. 
Supplement Facts
Serving Size: 3 VCaps
Serving per Container: 30
Amount Per Serving
% DV

L-Glycine

400mg

  *  

L-Glutamine

400mg

*

L-Methionine

400mg

*

N-acetyl-cysteine

400mg

*

Selenium (as Selenomethionine)

200mcg

286%

Zinc Complex (Zinc 15mg, Organic Sesame Seeds 10mg)

25mg

100%

Organic Garlic & Ext. 10:11

50mg

*

Organic Citrus Bioflavonoids

20mg

*

Camu Camu (Natural Vitamin C)

400mg

*

Organic Green Tea & Ext. 80%1

50mg

*

Peperine (Organic Black Pepper & Ext. 10:1)1

20mg

*

*Daily Value not established
Other Ingredients:

 plant-derived capsule
1Includes the extract for potency and the whole plant for the cofactors lost at the extraction process.
Directions: Take 3 capsules one to three times a day, preferable morning, mid-day, and bedtime, with or without food, or as recommended by a healthcare practitioner.
Price: $28.98
Related Terms : supplements to increase glutathione production, glutathione food supplement, glutathione supplement whole foods, best acetyl glutathione supplement