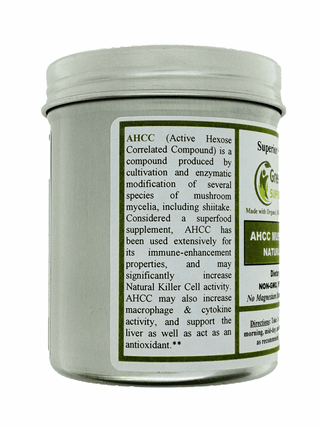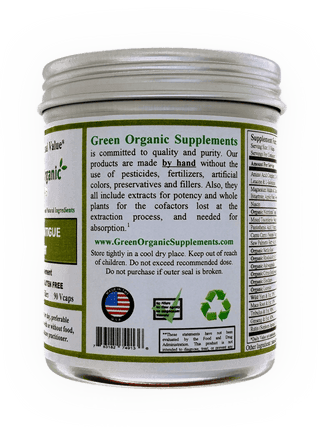 Mushrooms Blend, AHCC, Natural Antibiotic

Your Security is Protected
Antibiotic, Natural, 90 VCaps
Hand Made, Vegan, Non-GMO, & Gluten Free
Made with Organic, Wild-Crafted, and Natural Ingredients
Immune-boosting herbs are most effective when taken as preventives or at the very first sign of illness. Though, there will be times when you end up succumbing to the seasonal cold or flu, AHCC (Active Hexose Correlated Compound) is a proprietary compound produced by cultivation and enzymatic modification of several species of mushroom mycelia, including shiitake, grown in rice bran extract. Considered a super-food supplement in Japan, AHCC has been used extensively for its immune-enhancement properties. AHCC can significantly increase Natural Killer (NK) Cell activity. AHCC, also can increase macrophage activity, enhance cytokine production, and supports the healthy functioning of the liver as well as act as an antioxidant. All together, this natural antibiotic can boost your immune system without killing your gut flora.
This formula is further enhanced with Mushroom Blend, Garlic, and Peperine for maximum absorption.**

Supplement Facts
Serving Size: 1 VCap
Serving per Container: 90
Amount Per Serving
% DV

Mushroom Blend (Red Rehishi, Cordyceps, Shitake, Maitake, Turkey Tail, Chaga, Lion's Mane,

& AHCC Ext. 40%)1

600mg

*

Garlic & Ext 100:11

100mg

*

Peperine (Black Pepper & Ext. 100:1)1

10mg

*

*Daily Value not established
Other Ingredients:

 plant-derived capsule
1Includes the extract for potency and the whole plant for the co-factors lost at the extraction process.
Directions: Take 1 to 6 capsules per day, preferably morning, mid-day, and bedtime, with or without food, or as recommended by a healthcare practitioner.
Price: $36.98 
Related Terms : best mushroom blend supplement, mushroom blend supplement, mushroom supplement blends