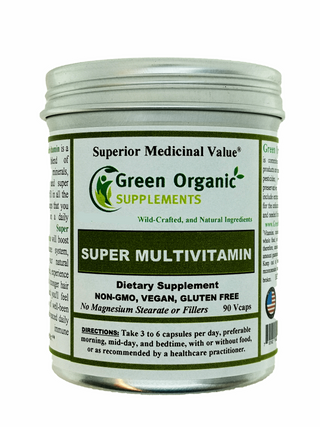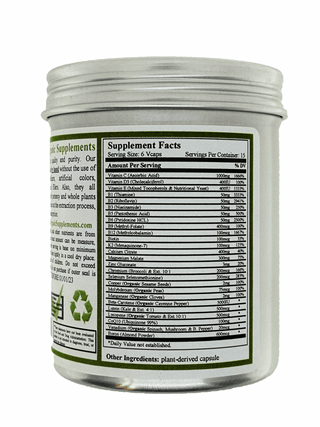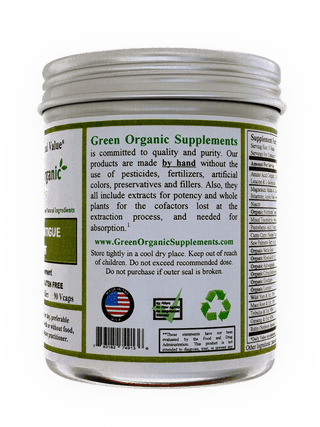 Your Security is Protected
Super Multivitamin, 90 VCaps
Hand Made, Non-GMO, & Gluten Free
Made with Organic, Wild-Crafted, and Natural Ingredients
Super Multivitamin is a synergistic blend of vitamins, minerals, antioxidants and super nutrients to fill in all the nutritional gaps that you experience on a daily basis. Super Multivitamin will boost your immune system, increase your natural energy levels, experience thicker and stronger hair & nails, and you'll feel an overall of well-been with this advanced daily anti-aging immune system booster.**


Supplement Facts
Serving Size: 6 VCaps
Serving per Container: 15
Amount Per Serving
% DV

Vitamin C (Ascorbic Acid)

1000mg

1666%

Vitamin D3 (Cholecalciferol)

400IU

100%

Vitamin E (Mixed Tocopherols & Nutritional Yeast)

400IU

1333%

B1 (Thiamine)

50mg

3333%

B2 (Riboflavin)

50mg

2941%

B3 (Niacinamide)

50mg

250%

B5 (Pantothenic Acid)

50mg

500%

B6 (Pyridoxine HCL)

50mg

2500%

B9 (Methyl-Folate)

400mcg

100%

B12 (Methylcobalamin)

100mcg

1667%

Biotin

100mcg

33%

K2 (Menaquinone-7)

100mcg

125%

Calcium Citrate

400mg

40%

Magnesium Malate

300mg

75%

Zinc Gluconate

3mg

20%

Chromium (Broccoli & Ext. 10:1)1

200mcg

166%

Selenium (Selenomethionine)

200mcg

285%

Copper (Organic Sesame Seeds)

2mg

100%

Molybdenum (Organic Peas)

75mcg

100%

Manganase (Organic Cloves)

2mg

100%

Beta-Carotene (Organic Cayenne Pepper)

5000IU

*

Lutein (Kale & Ext. 4:1)1

500mcg

*

Lycopene (Organic Tomato & Ext.10:1)1

500mcg

*

CoQ10 (Ubiquinone 99%)

100mg

*

Vanadium Complex (Organic 

Spinach, Mushrooms & Black Pepper & Ext. 100:11

20mcg

*

Boron (Raw Almond Powder)

600mcg

*

*Daily Value not established
Other Ingredients: plant-derived capsule
1Includes the extract for potency and the whole plant for the cofactors lost at the extraction process.
Directions: Take 1 to 6 capsules per day, preferable 1 capsule at a time with or without food, or as recommended by a healthcare practitioner.
Price: $27.98
Related Terms : multivitamin high absorption rate, liquid multivitamin, whole food multivitamin, multivitamin
Customer Reviews
09/26/2021
SUSAN D.

United States
I recommend this product
Good Products
My husband has noticed a difference and is sleeping better.
09/13/2021
Anonymous

United States
I recommend this product
Really Works!
Recently had Shingles. With this product and another antiviral my symptoms subsided in 3 days with a complete recovery in 1 week! I'm not a medical professional but I'm sure that without this product I may have had a more serious case. We also use this product 2 days before we travel by plane during our trip and 2 days after our return. Wouldn't leave home with out it! Thank you.
09/02/2021
SUSAN D.

United States
Awesome!
Definitely a great product that works to supply my body with the nutrients that I could never get from just eating food!